Somata Genesis conducts regular PK studies and can also customize it based the requirements of the clients. Pharmacokinetic PK Studies and toxicokinetic analyses are key activities of early drug development. Thoroughly understanding the DMPK(Drug Metabolism and Pharmacokinetic studies) of a potential clinical candidate can have a huge impact on the success of a drug discovery program.
Our Pharmacokinetic services (PK services) can be exploratory, or can be more extensive. Understanding the pharmacokinetic properties (PK) of a test article is an essential component of drug discovery and development programs.
PK and TK studies provide useful and required information that informs no effect levels (NOEL), human equivalent doses (HED), and pharmacokinetic/pharmacodynamic (PK/PD) drivers. Carrying out PK studies enables the determination of PK parameters such as AUC, clearance, volume of distribution, half-life, Cmax, and Cmin.
In the pharmaceutical industry, the incorporation of the disciplines of drug metabolism and pharmacokinetics (DMPK), and pharmacodynamics (PD) into various drug development process has been recognized to be extremely important for appropriate compound selection and optimization. During drug discovery and development, the identification of the critical DMPK/PD issues of new compounds plays an essential role in understanding their pharmacological profiles, structure-activity relationships, toxicology, clinical trial design and so on.
Characterization of absorption, distribution, metabolism, and excretion (ADME) profiles are a critical step in drug research and development. Pharmaceutical and biotechnology companies often outsource a large number of compounds to Contract Research Organization (CRO) to screen their DMPK and ADME properties in a time and cost effective manner.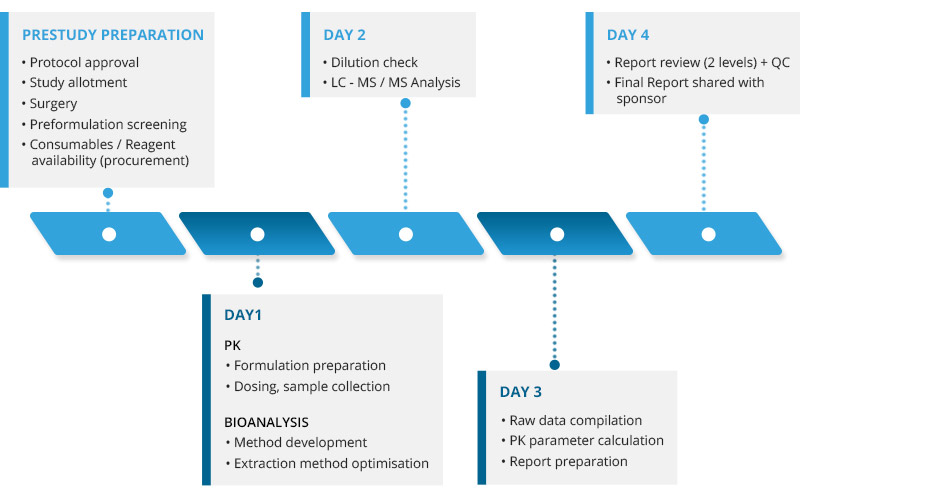 Workflow
Somata Genesis offers a comprehensive solution for non-GLP PK studies that includes quick turnaround PK screening for lead optimization or formulation evaluation, and full PK programs that encompass the in-life portion, bioanalysis and PK modeling. Studies can be conducted in rodents and nonrodents, including ferrets, dogs, mini pigs, and nonhuman primates (NHPs).
Bioanalysis is performed for determination of small molecules in blood, plasma, serum, CSF, or tissues. Our state of the art bioanalytical capabilities include LC-MS/MS – AB SCIEX 5500 and robotic sample prep systems. Biologic drugs may be determined using ELISA or qPCR assays.
PK Profiles
Typically, the first In vivo experiment during an oral drug discovery project would be a single IV bolus dose in a preclinical species. This would already allow the determination of key PK parameters such as AUC, Cmax, t½, Vss and clearance. After a test compound has successfully passed this first PK hurdle, further PK studies are used to build a more detailed picture of all aspects of ADME. Oral PK, in combination with the above IV data allows the determination of oral bioavailability (F). Low oral F can be caused by poor absorption and/or high first-pass hepatic elimination. Collection of urine or bile allows calculation of renal and biliary clearance and identification of metabolites. The following example shows typical IV and PO pharmacokinetic profiles.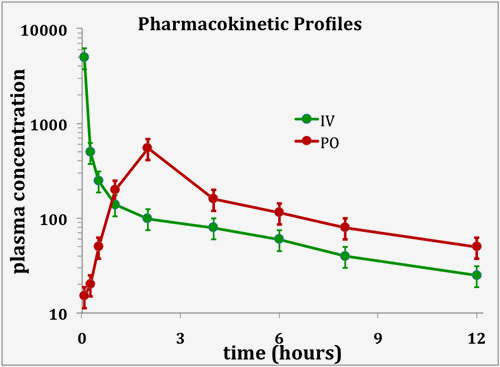 We Offer Multicentre Contract Research services of varied Complexity!
Tell us more about your project.
Get a Pricing Quote